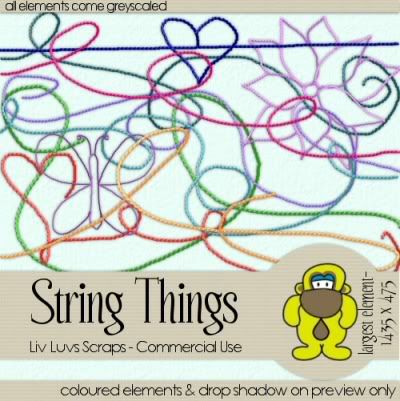 I've just released a new commercial use product -- String Things! Basically, they are pieces of string that you can use to add an extra decorative touch to your tag or scrap layout - and if you're a scrap kit designer, you can include them in your kits!! Brilliant!! :)

There are 10 "string things" included - they are all greyscale, and have been created in 300 dpi.

String Things is available exclusively at
TKO Scraps
. The usual price is $1.50...
BUT
TKO Scraps
is having a 50% sale until April 24th... which means you can get this product for $0.75!! Yes, you heard that right - 75 cents!!! Bargain!! :)
Have a look around TKO Scraps and see what other bargains you can find!! Lots of designers are participating in the sale, so there's lots to look at! :)

Enjoy! :)

--Liv--