(This post will stay at the top until Feb 15th...when OWOH finishes!)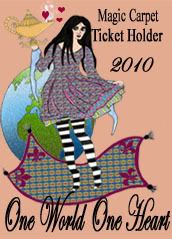 Hi everyone! If you're new to my blog, welcome to Liv Luvs Scraps!
If you're a regular visitor...welcome to you as well!! :) And thank you for coming back... :P
Last year, I came across this awesome annual event called One World One Heart (aka OWOH)...it's basically an event where you can visit people's blogs from all over the world, and make friends with them!! And there's a bonus...they're all giving away a little something!
If you want more info on the event, click on the logo above to be taken to the main information page.
I was fortunate enough to win 5 prizes in '09...so this year, I have decided to give away some prizes of my own!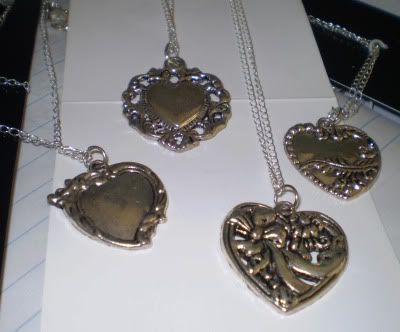 My apologies for the lack of photo skills! LOL
Anyway...I am giving away 4 necklaces, put together by me. Note: I didn't make them - they're all store-bought supplies - but I put the pendants on the chains, attached jump rings & clasps to the chains...and all that jazz. :)
So -- we have 4 pendants, made of silver-tone aged metal, and they are attached to silver chains (18 inches - or 40cm for people like me who don't do inches...) and with silver-tone jump-rings & clasps.
Here they are in a little more detail:
Again, I am so sorry for the photography!!
Anyway... if you would like to go in the drawing for one of these necklaces, all you have to do is leave a comment in this post (you can tell me which one you like best, or you can say that you'd like a random one)...but be sure to leave me either an email address or your blog link so I can contact you if you win!!
This contest is open to EVERYONE WORLDWIDE!!! Sorry for the caps, folks - but I want to emphasize that this is open to anyone all over the world! :)
Oh...and please just leave one comment - multiples will be deleted, as will any spam messages. So please DO NOT do either of these :)
Entries close midday on February 15th (New York time - that's 4am Feb 16th for me & others on Australia's east coast)...and no comments received after this time will be entered in the drawing. I will draw the winners sometime after 10am my time (6pm New York time)...hopefully, I'll have computer access!! LOL
I am looking forward to meeting new people, and reading your comments! :)
Thanks a lot, everyone! :)