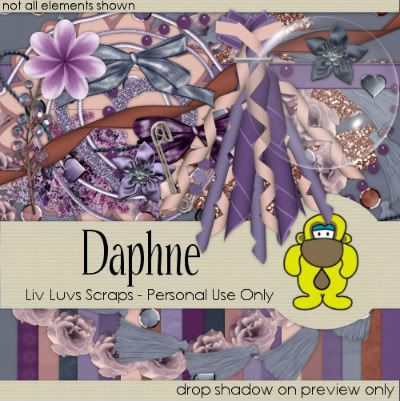 Personal use only, Full Size ($4) & Tagger-Size ($3) kits available now - 300 DPI
In Greek mythology, the beautiful nymph Daphne, after being chased by the god Apollo, was completely transformed into a laurel tree - and "...only her shining beauty was left" (from Ovid's Metamorphoses).
The "Daphne" kit features shades of purple and pink, representing the many colours of laurel blooms, as well as brown for the laurel branches and grey for the numbness the young nymph felt during her change from human form to plant.
"Daphne" includes:
20 Papers, in JPG format
62 Embellishments, all in PNG format:
5 bows
5 fabric flowers
5 flower frames
5 journals
5 ribbons
5 string embellishments
5 swirls
5 tassle frames
4 spiral strings
3 curled ribbons
3 flowers
2 corker bows
2 glitter hearts
2 glitter sprays
2 pins (beaded)
1 bead branch
1 bubble
1 flower bunch
1 gem scatter
This kit is exclusive to
TKO Scraps
!