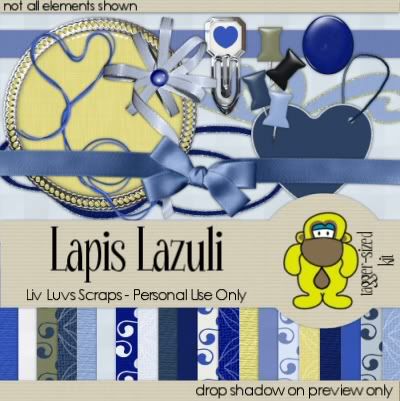 Lapis Lazuli is a semi-precious stone with a vivid blue colour - and Liv Luvs Scraps has designed a kit based on the colours found in this stone - navy, royal blue, platinum, khaki and other stunning shades are featured in this kit.
The usual price for this kit is $3.00 for the
tagger-size kit
, and $4.00 for the
full size kit
-- BUT I'm having 2 special sales until May 17th, so take advantage of this discount while you still have a chance!! Plus all other Liv Luvs Scraps products are discounted as well!!!
Lapis Lazuli is available exclusively at
TKO Scraps
, which is celebrating Kissed By Pix's birthday, and selected designers have discounted their products until May 14th!
Lapis Lazuli is for personal use, created in 300 dpi and comes with:
20 Papers, in JPG format
47 Embellishments, all in PNG format:
10  pushpins
 5  bow dividers
 5  brooches
 5  fasteners
 5  glitter-edged embellishment
 5  heart tags
 5  ribbons
 5  ribbon flowers
 1  cabochon stone
 1  string heart