Thanks to Becca for getting this ready for us! :)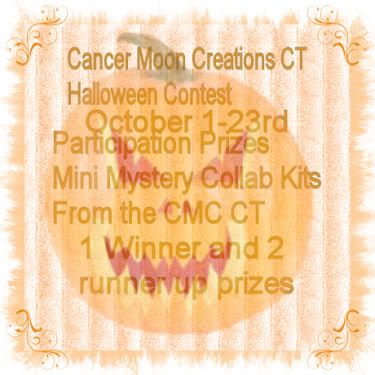 "All tag entries should have a halloween theme. Participants will each recieve a Mini Collab Mystery Kit. The kit will be made by the Cancer Moon Creations Team.
Once I recieve your entry I will send you a link to the mystery kits. You can download one or all of them.


Rules for the tags:


No larger than 500 x 500
Send in two copies of your tag
one with your name and email addy on it
and one with out any identifying marks on it.
All tags must be sent in to me Becca at beccards@suddenlink .net by October 23rd
so that I can post them to my blog for the CT members to vote on.
The winner and runner ups will be notified by email and then posted on my blog.
The Grand Prize winner (1st place) will be awarded with a cu grab bag including
scripts from cmc. Runners up will receive a cmc script.
We are looking forward to seeing your tags."

Have fun with this everybody!!! :) Can't wait to see what you all come up with!! :)

Enjoy! :)
--Liv--