Giveaway now finished!

(This post will stay up the top until the event finishes on Feb 17th.)
Hi there! Welcome to Liv Luvs Scraps! My name's Liv, I'm from Sydney, Australia. I'm currently job-searching, so my time is taken up by a few things, including creating digital scrapbooking supplies (including kits and poser tubes), which is what this blog is all about, and writing about & review perfumes and all things scented, which is at my other blog
Nose At The Ready
.
Apart from those two things, I enjoy watching TV & movies, singing, playing & listening to music, collecting teddy bears & stuffed toys (ones with personality!), and am fascinated with fashion, make-up, jewellery, digital art and photography - all of which I'd like to learn more about!
I'm participating in the
One World One Heart
event, and it's my second year! I discovered this event back in 2009 and thought it was such a good idea - travelling to blogs by people from all over the world, and getting to know them and what they enjoy doing. I met quite a few people, and even won a few gifts, over the past two years. But seriously, the gifts are not what makes this event special - it's the fact that you can interact with people from anywhere on this beautiful planet of ours, and even make friends!!
As a thank you for visiting me at Liv Luvs Scraps, I'm giving you the chance to win one of four gold-tone bracelets - two of them with a gold-tone & diamante frog charm, and the other two with a gold-tone & diamante heart-shaped padlock charm.
No, I didn't make them. I wish I was that creative... :)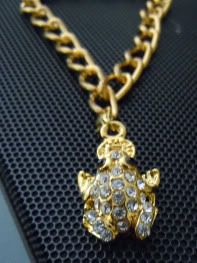 Would you like one of these bracelets? All you have to do to be in the running is:
1. Have an active blog
2. Leave a comment on this post. (You can tell me if you'd prefer the frog, padlock or a surprise if you like!) And don't forget to leave your email address or a link to your blog so I can contact you if you win!
This contest is open to EVERYONE WORLDWIDE!!! Sorry for the caps, folks - but I want to emphasize that this is open to anyone all over the world!
Oh...and please just leave one comment - multiples will be deleted, as will any spam and simple "enter me" messages . So please DO NOT do any of these :)
Entries close at 5pm on February 17th (New York time, which is 9am Feb 18th for me & others on Australia's east coast), and no comments received after this time will be entered in the drawing. I'll draw the winners sometime after 10am my time (6pm New York time). The winners will be picked at random by the random number generator.
All the best, everyone. I'm looking forward to meeting new people, visiting a whole lot of great blogs and reading all your comments!
Thanks!!