Well, ladies & gentlemen, OWOH is over for 2011...and also, unfortunately, for good. :( But there's a new exciting event coming next year, which I'm very much looking forward to! :)
Anyway...we had 97 people enter the drawing for the 4 bracelets, which is fantastic! Thank you so much for visiting my blog! I wish I had 97 gifts...unfortunately, I don't... but have a look at the end of the post for something you may like! :)
OK, onto our winners. I went to random.org and the four numbers the site came up with are: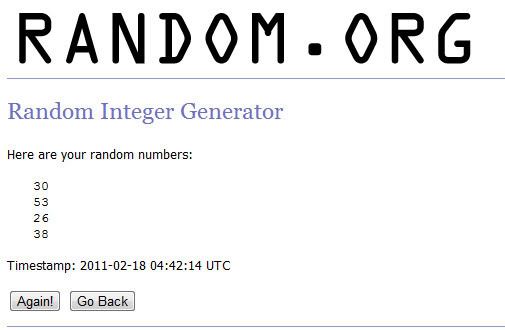 And these people are (in order of the numbers drawn)...
Congratulations, ladies!!! I will be emailing you right now to get your details. If I don't hear from any of them by 3:59pm Sunday my time (11:59pm Saturday East Coast US time), then I will have to draw another name out of the hat (ie. random.org). Sorry, but that's the way it goes!
Also, if you missed out on one of these bracelets, but would like one, I will be selling them (as well as other jewellery and Balinese incense & bath products) on my blog
Liv Luvs Variety
as of Saturday (possibly earlier, who knows!)...or you can comment on this post, and I'll send you a message letting you know when photos & information are up on the blog.
Thanks so much to everyone who came to visit Liv Luvs Scraps!! :) Hopefully, I'll see you all again very soon! :)