I have been challenged by Linda @
Linda's Dream Designs
!!
Thanks Linda!!! :) Please check out her blog...some fantastic scrapping supplies there! :)
Edited to add: I was also challenged by Laura @ Laura's Designz! Thanks, Laura!! :)

These are the challenge instructions:
Go to your photo folder in your computer.
Go to the 6th folder of the photos.
Go to the sixth picture.
Put the picture on your blog and description of it.
Invite six friends to join the challenge.
Link them in your blog and let them know they have been challenged.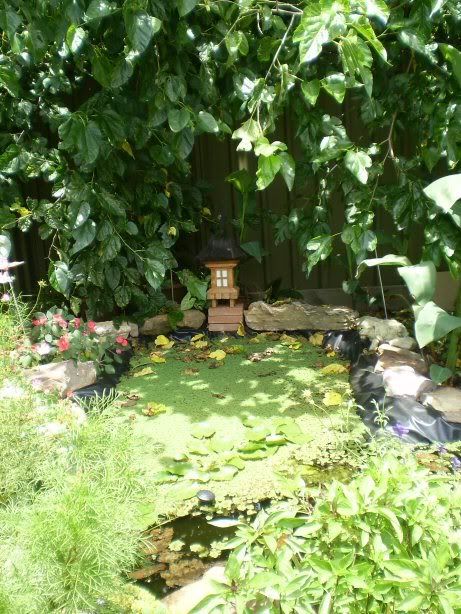 This is the pond in our backyard. I took this photo last year (in January, if I remember correctly). My mum built it herself -- isn't she clever?!? I think it's gorgeous!! :)
Our back yard is half-Balinese themed - which is where our pond is...see the little house up the back? That's a lantern from Bali! Cute, huh? We have fish in our pond too...lots of them! We only had 4 originally - one died, and then one day, after mum put some pond weed she bought from a garden shop in it, all of a sudden there were dozens of baby fish in there!! We don't know exactly how many, but there's a few! :)
[In case anyone's wondering, the other half of the garden is herbs/vegetables!]
Now...who shall I challenge... Oh, I know!! The following 6 ladies I met during the One World, One Heart event - which was so much fun!! I really want to participate next year! :) All 6 have since either popped by my blog to say hi or emailed me!! Therefore, I'd like to give them this challenge...I'm sure it'd be simple for them...I reckon they'd have HEAPS of photos on their computers! :)
1. Lorri @
ARTIVITY
- Lorri is a fellow Aussie, and a fantastic artist!! I love her "Susan" artwork...beautiful...after you check out her blog, have a look at
her Etsy store
to get more of a feel for what she makes! :) [I was priveleged enough to win an ATC from Lorri! I can't wait til it arrives!!]
2. Julie @
Oakleaf Hollow Primitives
- really beautiful art! [I also won a prize from Julie - a handpainted artwork on a softball! Too cute -- I can't wait until it gets here!!]
3. Diane @
Angel Feather Designs
- a new blogger, but I'm sure she'll get the hang of it and be as obsessed about updating it as a lot of us!! :)
4.
Tinker Art
- the painting she gave away for OWOH was so pretty!!
5. Terri @
Life With Terri
- a very creative lady...her cards are gorgeous! And she shares some really great ideas for stamping and quilting... and she has a cute little "fur baby" (Lily, the dog)!!
6. Denise Elizabeth @
Hope Tree Studio
- her
Etsy store
has got some gorgeous items in it!! Her "music note heart art photograph" (as it's called in the store) has caught my eye...I love anything music-related!! :)
Anyway - please check out these six blogs!! :)
Enjoy!
--Liv--